Successful delivery of project outcomes requires that steering committee members understand the business context being addressed by the investment, including the operational and associated whole-of-life impact factors. Their focus needs to extend beyond the project to embrace the broader context as described in Figure 6. They must ensure key stakeholders are informed and committed as the project progresses. The committee also needs to proactively monitor, mentor, challenge and support the project manager and team on the project's progress: asking the right questions, offering alternatives and making timely decisions.

Figure 6 The broader project governance focus
Note: In governance models the terms project steering committee, project control board or project board are used interchangeably. For more complex investments an overall project control board may be established with subcommittees (project steering committees) that deal with individual project elements.
The important thing is to ensure the roles and responsibilities of the entities are clearly defined, understood and accepted by members.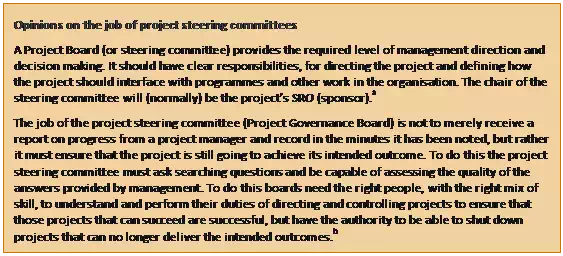 Six key questions for project steering committees to regularly consider are set out below. It is preferable that wherever possible, decisions are reached through consensus of the project steering committee. The chair should seek to achieve this end. However, the ultimate decision maker is the project sponsor, the individual who is accountable for the successful delivery of the project and the achievement of value to the organisation.