Introduction
Many project management methodologies being used today, are either the wrong methodologies or are not applied fully [1]. Some project managers see methodologies as impractical and bureaucratic, relying on their gut instinct when it comes to managing projects. If project management methodologies come across as too complex to use in real-world projects, project managers will look for their own shortcuts. Given enough time, anyone can be trained to adhere to a project methodology. Projects are usually split into phases often along the lines of initiation, control (Planning, Execution) and closure. During each phase, a number of documents are produced as part of the project control process. All IT projects, regardless of their size, complexity or industry, require a set of defined rules and principles to be managed effectively and come to a successful conclusion. This area of managing projects is called project management. This idea of project management has been around for a long time. Today, project management has emerged as its own field, supported by bodies of knowledge and researches across many discipline. Although still relatively new, the field of Software Engineering has its own Bodies of Knowledge that include various methodologies, frameworks, tools and techniques supported by a continuous growing base of research.
What is a Methodology?
A methodology is a set of guidelines or principles that can be tailored and applied to a specific situation [1]. In a project environment, these guidelines might be a list of things to do. A methodology could also be a specific approach, templates, forms, and even checklists used over the project life cycle. A methodology can also be defined in other ways, for example [2, 3, 4]:
· A process that documents a series of steps and procedures to bring about the successful completion of a project.
· A defined process for accomplishing an end.
· A series of steps through which the project progresses.
· A collection of methods, procedures, and standards that define a synthesis of engineering and management approaches designed to deliver a product, service, or solution.
· An integrated assembly of tasks, techniques, tools, roles and responsibilities, and milestones used for delivering the project.
A formal project methodology should lead the work of all team members throughout the life cycle of a project. All members of a team should be familiar with and use the chosen methodology throughout their projects. Many project management methodologies address the management of a single project, without appreciating that many other projects in a company compete for the very same resources and attention. The project management methodology should also provide project managers with the perspective that there is a project management framework and associated methodologies present in the company. In Fig. 1, we see that Project A has no methodology and is filled with process issues as well as problems that actually increase as the project moves along [5]. Additionally, Project B, which has a structured methodology with defined and operational project processes, minimises the number of problems that may occur on the projec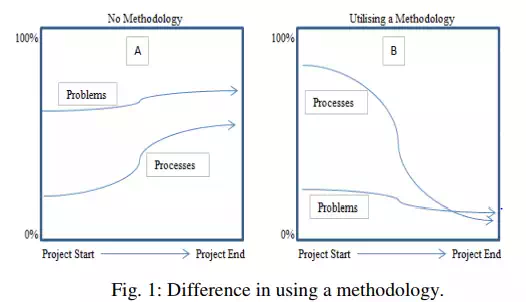 Strategy with Methodologies
For any company to be world class, the strategy is clear, survey the entire landscape and then put the objectives. In negative economic times, always remember that what comes down must come up [3]. In other words, after identifying and selecting the correct methodology, it may be the best defense if you want to:
· Avoid mistakes
· Reduce cost
· Reduce risk
· Meet project schedules
· Identify and correct errors early
· Avoid excessive documentation
Review on Project Methodologies
Project management has grown from the early initiatives in the U.S. defense and aerospace sectors in the late 1950s and 1960s [3]. The U.S. Department of Defense and NASA achieved early project management successes, mainly promulgated through their internal policies, procedures, and lessons learned. Many articles, seminars, and training programs that expanded the project management genre, although much of the theory centered on the use of tools and techniques, such as [3]:
· PERT/Gantt charts.
· Critical path.
· Scheduling techniques.
· Organisational issues.
· Conflict management and others.
Most projects share a common life cycle. This is not to say that these projects are all designed and executed the same way, but they remain universal, as they pass similar phases during the life cycle of the project.